fresherie BISTRO - we LOVE to be FRESH
fresherie BISTRO - we LOVE to be FRESH

fresherie BISTRO - we LOVE to be FRESH
fresherie BISTRO - we LOVE to be FRESH
fresherie BISTRO - we LOVE to be FRESH

fresherie BISTRO - we LOVE to be FRESH
---
About Fresherie Bistro
We cook meals from fresh ingredients, we offer breakfast, lunch menu, chef's evening menu, themed evenings, wine tastings, corporate and private events.
We prepare Italian Trucillo coffee, pour Czech Pilsner Urquell beer and pour quality European wines and selected spirits.
We bake our own desserts in our pastry directly in the bistro.
The inspiration for the recipes of our dishes is Mediterranean cuisine, which excels in its freshness, variety and varied flavors, and whose ingredients, in addition, benefit human health due to their composition.
We do not cook from chilled or frozen semi-finished products. We do not use preservatives or stabilizers.
We save nature – for our take-away products we use recyclable, recycled, compostable or 100% degradable packaging in nature.
Our chef Zdeněk Blecha and his team takes care of the maximum quality and varied taste.
---
Loyalty cards fresherie bistro
Loyalty Cards allow their holders to gain the benefits of their Fresherii Bistro fidelity, and the various offers of benefits are communicated directly in the bistro, newsletter or social networking.
Card registration
Register our customer card and get interesting benefits.
Credit Review
Have you already got a customer card? Check her condition.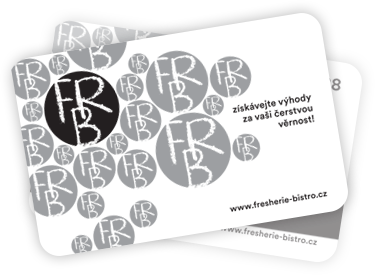 ---
---